The Cambridge Art Academy Blog: Sunshine and rain - oil painting in Alencon France | View All Blogs | Back
Sunshine and rain - oil painting in Alencon France
Posted On: Sunday 9th October 2011
Summary: Back to day 6 of my painting holiday in Normandy. This time a small oil painting started in the rain, continued in the sun, and finished in the studio

Blog Tags: Oil painting Pochade painting Townscapes Cambridge Art Academy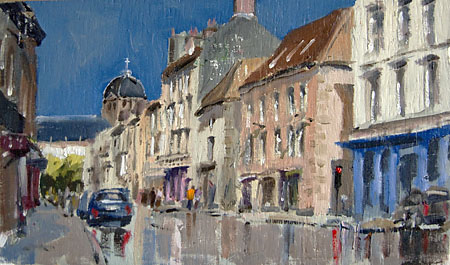 After a short break from posting my France paintings, I'm back on day 6 in Alencon, an attractive and historic town in Normandy. On this particular day the weather was very mixed. I started painting under the shelter of a tree in very dull conditions, then it rained, and then for a short time the sun came out.
It was this short interval of sunshine that I tried to capture here with the reflections on the wet road.
The process of painting this picture with some ideas on how to make the most of changing weather conditions when you are painting outdoors is the subject of an article which you can access
here.
The full version is available for members so please feel free to sign up - it doesn't cost a thing..
Blog Archive
View All Blogs