The Cambridge Art Academy Blog: Watercolour painted on holiday at Bagnoles-de-L'Orne Normandy France | View All Blogs | Back
Watercolour painted on holiday at Bagnoles-de-L'Orne Normandy France
Posted On: Saturday 1st October 2011
Summary: Painted in watercolour at Bagnoles-de-L'Orne in the Normandy "Swiss Alpes", the river Orne flows through this little resort replete with casino and boating lake. I sat on the grass next to the lake to complete this little study.

Blog Tags: Watercolor Outdoor painting Townscapes Buildings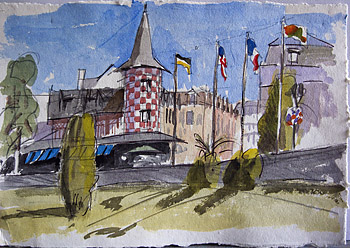 On day five of my painting holiday in Normandy, France, I did this small watercolour in the resort of Bagnoles-de-L'Orne. It seemed a strange sort of place, right in the middle of rural Normandy. It had a lake, a casino and a small range of shops that would have not been out of place in 1950's Monte Carlo.
This particular shop had a sort of whimsical character about that reminded me of Transylvania in Romania, but more cheerful.
When I started painting I suddenly realised that the paper was extremely absorbant. It had no "sizing" on it whatsoever. I don't know where I got it from. To compensate I had to lash on the colour with lots and lots of water. It worked out in the end but it would have been much better if it had been a proper piece of watercolour paper.
Blog Archive
View All Blogs