The Cambridge Art Academy Blog: Watercolour painted at the table waiting for lunch - Pont d'Ouilly Normandy France | View All Blogs | Back
Watercolour painted at the table waiting for lunch - Pont d'Ouilly Normandy France
Posted On: Tuesday 27th September 2011
Summary: A small watercolour painted at a table outside a french bistro at lunchtime. This was in Swiss Normandy as its called, and the very typical village street scene with road signs all contributed to making an enjoyable painting experience.

Blog Tags: Watercolor Outdoor painting Townscapes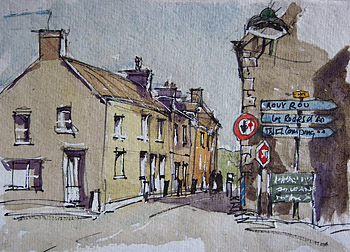 Now on day three of our vacation, today we were exploring villages in the area of the River Orne in Normandy.
While we sat out on the pavement at Pint d'Ouilly waiting for our food and sipping coffee, I painted the streetscene in watercolour.
I can't tell you the number of times I have painted with watercolour at restaurant and cafe tables. It's a weakness of mine!
Still, it was a pleasant view with typical french houses and road signs. It couldn't have been painted anywhere else. I bit of care is needed because a wash of phthalo blue, for example, spilled onto the tablecloth just will not come out.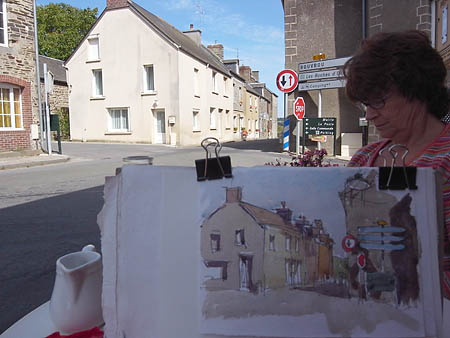 As you can see, it was painted quite small. I used Arches NOT watercolour paper, started the outline with pencil, then watercolour washes and details "drawn" with a fine watercolour brush and a dark brown mix of burnt sienna and ultramarine blue. When I got back to the Gite in the evening I put in a few fine highlights using a rigger brush and permanent white gouache.
Notice how the dragged brush strokes in a few places in the foreground break up on the rough paper to give an interesting speckled effect.
Blog Archive
View All Blogs