The Cambridge Art Academy Blog: Pen and soft pencil sketch of The Anchor at Sutton Gault in the Cambridgeshire Fens | View All Blogs | Back
Pen and soft pencil sketch of The Anchor at Sutton Gault in the Cambridgeshire Fens
Posted On: Friday 9th September 2011
Summary: This sketch at the pub called the Anchor and Sutton Gault in the Cambridgeshire Fens was done as the last of the daylight faded and we went in for our meal

Blog Tags: Sketching Plein air Nocturne painting Buildings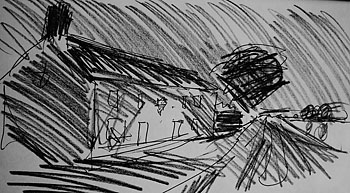 I started the day with an oil sketch of an abandoned boat at about 10am in the morning , with three other sketches during the course of the day. And so the last.
I was out with my wife for a meal at a lovely and remote place in the Fens called the
Anchor at Sutton Gault.
Well worth a visit to eat or stay. I would imagine looking out of your window at dawn and seeing that beautiful watery fenland landscape woulde be pretty special.
But before we were called in to eat I did this sketch in almost darkness. I've added a photograph to show just how dark it was. I had to tweak the photo pretty fiercely as well to make something show up. As you can see, it was so dark I didn't notice a couple of chimneys and in fact it was difficult to see where the building ended.
This was definitely the end of art for last Saturday!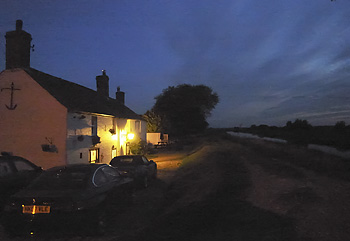 Blog Archive
View All Blogs