The Cambridge Art Academy Blog: Interior of Haddenham Great windmilll, painted in oil | View All Blogs | Back
Interior of Haddenham Great windmilll, painted in oil
Posted On: Wednesday 31st August 2011
Summary: This is a 12"x12" painting in oil of the inside first floor of Haddenham Great windmill in Cambridgeshire. It's in the process of being restored and everything was still as I sat and painted.

Blog Tags: Oil painting Windmills and mills Buildings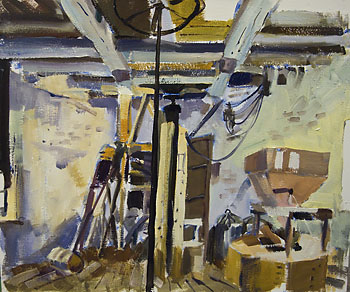 This was also painted on the same day as the previous two posts. Haddenham Great Mill in Cambridgeshire is being slowly restored to full operating condition. The owner says it may take another five years to complete. There was an Open Day for the public to look around, on Monday of this week.
It was a good opportunity to sit down and paint the interior in oil on board using my pochade box. I don't paint interiors of windmills often. However, this was the best viewpoint at this time because the sails are all off for repair at the moment.
I painted for about an hour or so, in which time the mill cat made friends with me, and I imagine liked my painting too. I interviewed the mill owner also on video so I will post that before long.
Blog Archive
View All Blogs