The Cambridge Art Academy Blog: My old watercolor paint box | View All Blogs | Back
My old watercolor paint box
Posted On: Thursday 25th August 2011
Summary: It's time to bin my old watercolor paint box. It's nearly 30 years old and is falling apart. Being made of "japanned" metal, it was expensive, but wow, it has lasted. An excellent investment.

Blog Tags: Watercolor Art equipment Art techniques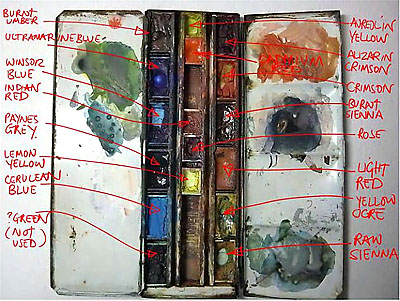 This is my hardworking watercolor box. It's now 27 years old and rusting through the bottom. It's had a good life, and we've had some good times together. Now I'm going to bin it - when I've taken the plastic pans of paint out to put in another box.
And in it are my old regular set of colours – apart from the green at one end which is an interloper. Don't know how it got in and since everything is rusted in now I don't risk taking it out – it may fall apart!
So for what it's worth why these? The most obscure first. Indian Red – I like it. Next Light Red. It makes a plummy purple with Ultra Blue that I like and granulates on rough paper. Joh Blockley said he hated it. There you go. All artists have irrational loves and hates for different pigments. You can't be a proper artist if don't HATE vermillion, or lamp black or something else. Aureolin. This is a FABULOUS (point made?) yellow that is transparent, cool without being lemony and makes good greens.

The rest is a mix of the usual suspects:
Warm – ultra blue, Cad red, Raw sienna
Cool – Winsor and Cerulean blue, Lemon yellow, Alizarin.
I always squeeze paint from tubes to top up the pans – it's cheaper. I also wash the whole box after each session to clean up the colours – I don't like muddy colours. It's also why the box is rusting out. I also have a tube of permanent white gouache for opaque touches here and there.

The box I use now is smaller and forces me to use a smaller range of colors which is a good thing in my opinion.
Blog Archive
View All Blogs