The Cambridge Art Academy Blog: A nice surprise - selling a watercolour of a cricket match in Nassington | View All Blogs | Back
A nice surprise - selling a watercolour of a cricket match in Nassington
Posted On: Wednesday 24th August 2011
Summary: I sold this small watercolour of a cricket match in the village of Nassington just yesterday, although I painted it in 2007. The purchaser discovered it on my old website and e-mailed me about it.

Blog Tags: Watercolor Outdoor painting People Cambridge Art Academy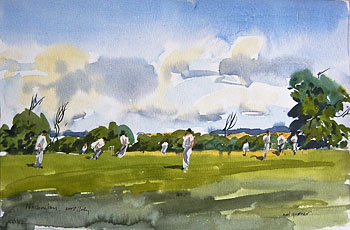 I received an e-mail from someone a few days ago asking whether a small watercolour painting of mine, not offered for sale but illustrated on my old website, was by any chance available to buy.
Well, I found it after a bit of rooting around in a portfolio. I did it late on Saturday afternoon on the rec at Nassington in 2007 while a cricket match was being played. You can see that the washes were applied very fluidly, wet-into-wet. And when it was dry I picked out the players using permanent white gouache. It would have been absolutely impossible to reserve the paper with masking fluid - which I hate anyway.
Apparently the buyer has never bought a painting before, but for personal family reasons this particular watercolour had a special significance.
I keep harping on about this, but it's so rewarding to think that one of your efforts really means something special to someone and when it has been framed it will hang in a special place for years to come. Fantastic. I love painting!
Blog Archive
View All Blogs