The Cambridge Art Academy Blog: Sketching with watercolour pencils on a cycle ride | View All Blogs | Back
Sketching with watercolour pencils on a cycle ride
Posted On: Monday 15th August 2011
Summary: This sketch was done using Derwent Aquatone pencils. They are solid watercolour pigment with some kind of binder makes them surprisingly resistant to breaking

Blog Tags: Landscape painting Sketching Plein air Watercolor pencils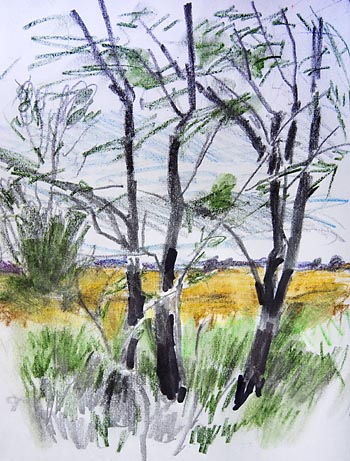 These watercolour pencils release their strong colour only when you add a bit of water. As a dry pencil they are not at their best.
I was out cycling yesterday so I was only carrying very compact sketching equipment. Pencil, small brush, small water spray, watercolour pencils and small sketchbook
I did this sketch first with graphite stick, then went over it with the pencils and finally smudged with water. It took about 10 minutes.
I did two more small sketches on the same outing which I will post later.
Blog Archive
View All Blogs