The Cambridge Art Academy Blog: Digital sketch at Elton Hall gardens using an Asus Transformer tablet | View All Blogs | Back
Digital sketch at Elton Hall gardens using an Asus Transformer tablet
Posted On: Sunday 7th August 2011
Summary: I'm persevering with digital sketching. This one was done Adobe Sketchbook Pro on my Asus Transformer tablet computer at Elton Hall garden near Peterborough

Blog Tags: Landscape painting Outdoor painting Digital painting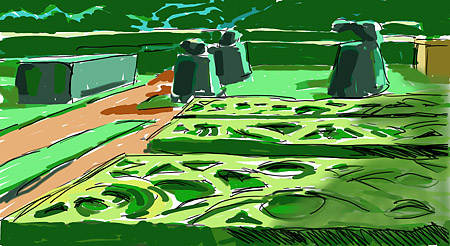 I intended to paint this afternoon with oil pastels. Had everything set out and then somehow managed to forget to put it in the car. So that left me with my Android 10" tablet which I happened to have with me. How many painting mediums do you know of that will also pick up your e-mail, check your calendar for you, and give you road directions to your painting location? Ah, hah - I thought not!
Unfortunately this doesn't get round the fact that this on-screen sketch is no masterpiece. Never mind. I shall perservere, because it OUGHT to work.
We went to Elton Hall for the benefit of my father-in-law who wanted to see their magnificient collection of very old Bibles. Actually they were very impressive - especially the hand-painted illustrations that had kept all their brilliance even after 500 years. Stunning.
However, not being able to read Middle English very well is a limiting factor, so I wandered off into the house out of curiosity, and stumbled upon a room - shock, shock - that had in it a large Gainsborough, two small Turner watercolours and a large Linnell oil of Hampstead Heath. Fantastic surprise. I hope their security is good because nobody was in the room and the two small Turners were just standing on a piece of furniture and could easily have slipped into a large coat. They were also supberb.
Anyway, an unexpected surprise on an afternoon that I thought was not going to yield very much of artistic interest.
Blog Archive
View All Blogs