The Cambridge Art Academy Blog: Pochade oil sketch at Great Dixter house and gardens | View All Blogs | Back
Pochade oil sketch at Great Dixter house and gardens
Posted On: Wednesday 3rd August 2011
Summary: This is a small oil sketch done on the spot using my pochade box, at Great Dixter house and gardens on a hot summer afternoon

Blog Tags: Oil painting Pochade painting Buildings Flowers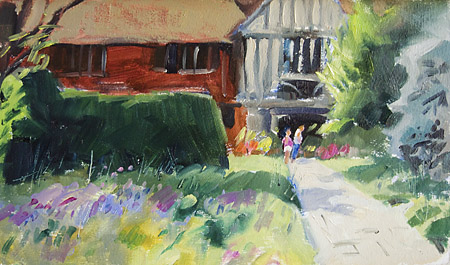 I got told off for standing on the grass - but Great Dixter is one of those places that gardening afficionados (like my wife) go round hardly breathing. I believe I am more comfortable in a field.
Having said that, this was the most interesting viewpoint from my painting point of view. I love painting a hedge like this thrown into deep shadow by a high sun. The warm brick - very characteristic of this part of south-east England - made a great colour combination with the hedge. The colors in strong sun were pretty much washed-out.
Flowers have very particular colors and although in theory you can mix the right color note from just a few pigments, in practice I have found it necessary to have some specialized colors. This is a case in point. The swathe of small purplish meadow flowers in the foreground needed something special - and here I used King's Blue, Cobalt Violet and Quinacridone Magenta in various combinations.
A small pochade sketch on board 6" x 10". I wasn't in any hurry so I guess this took a bit more than an hour.
Blog Archive
View All Blogs