The Cambridge Art Academy Blog: Digital sketch at Great Dixter garden | View All Blogs | Back
Digital sketch at Great Dixter garden
Posted On: Tuesday 2nd August 2011
Summary: I used my Android tablet - an Asus Transformer - and Sketchbook Pro with a stylus pen to do this digital sketch in the famous gardens of Great Dixter in East Sussex, UK

Blog Tags: Landscape painting Buildings Digital painting Cambridge Art Academy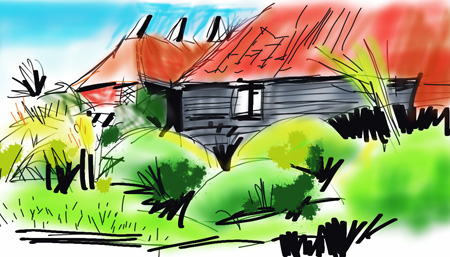 I painted two small pochade pieces in oil today, both involving flowers. I finished off with this sketch using my android tablet omputer. These little gadgets are a marvel! I use it for e-mail and a host of other things. But I can draw on the screen too, digitally. The best software that I have found for doing this is Adobe Sketchbook Pro. There are free version for both android tablet and the iPad. The screen of my tablet is surprisingly useful even in outdoor light, and it is useful for making rough notes and working out compositions. This sketch was done in the sunken garden at Great Dixter. I don't know much about garden flowers but even I could appreciate the amazing arrangements at this place.
Like a daylight fireworks display.
I'll post the oil sketches I did over the next couple of days.
Blog Archive
View All Blogs