How to analyse an outdoor scene and choose a good angle to paint from
Faced with a painting subject that has many possible angles and viewpoints, how do you narrow down the options? That's where it's useful to analyse the scene without rushing in. I'll show you how with the aid of drawing, illustrations and video.
Posted: Wednesday 19th October 2011

Member Content: You Are Viewing A Preview Of This Content. Register Now For Full Free Access
It's easy to rush in and start painting what seems to be a very exciting subject only to regret it later on when things don't seem to be going well. I've often done this myself.
What we need to do is:
Analyse the scene
Narrow down the options
Make a choice that you will feel will convey a clear idea in the painting
Set up and paint the picture keeping that idea in your mind all the time.
Of course there are an infinite number of painting subjects, and an amazing range of options to choose from, but I'm going to illustrate the main points by talking you through how I approached choosing a viewpoint for painting Carrouges Chateau in Normandy - outdoors, on the spot, painting in oils. You could apply the same principles to many other painting situations like this. After this I'll show you a short video as I begin the painting on location, to be finished later back in the studio
Carrouges is a small hilltop village in Normandy, and the day I painted the Chateau was market day. To get to the Chateau you go downhill along a long drive. There was a light breeze, fluffy clouds which had a touch of heaviness to them that hinted at rain later on in the day, and a wonderfully clear atmosphere. Colours were sharp and clear: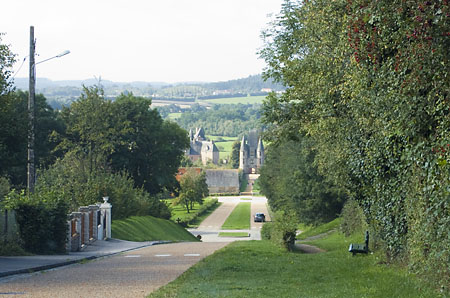 This aerial view from Google shows the layout of the site - a rather pretty gatehouse with twin towers guarding the entrance to the main gardens in which sits the massive bulk of the chateau itself.
Analysing the scene
Even before parking the car, the formal layout was striking - straight lines - formal flower beds - straight gravel paths. Already I'm getting an idea of the character of the scene and thinking I want a composition that will tap into this.
Next I walk through the gatehouse arch and see just how heavy, large and SOLID the main building is. It has a water filled moat all around it, a very defendable narrow bridge leading to the main doorway, sheer walls like cliffs only broken by small windows. This is a place that is foreboding. It shouts out strength and power.
I walked all the way round - it seemed like a lot of effort but it was worth it just to absorb the personality of the scene.
And then I looked back at the gatehouse - all dainty and showy. What a contrast. But the two buildings - though separate by some distance, were visually linked. Almost talking to each other. I had to sketch this building first, however quickly. In fact it turned out to be so interesting that I probably spent 15 minutes on this alone: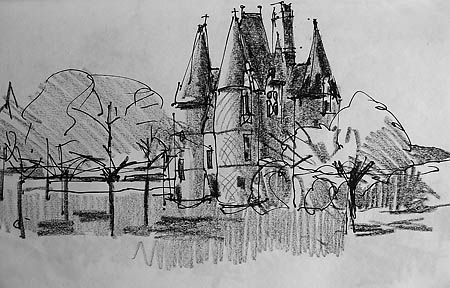 more of this content available online now!

To read the full item and access all our valuable FREE content, please Sign Up As A Free Member. Its quick, easy and it really is all FREE. No credit card or payment needed!
Already a Member? Login As A Member and get instant access to this content now.
Other Articles From Cambridge Art Academy
What you need to draw and paint birds
Why you should follow Turner's example and distort the scene you paint - a view of Florence
How to make the best of a day out painting and sketching by the river
How to paint a snow scene Christmas card in watercolour
Painting commissions - the pain and the pleasure
Painting outdoors in changing weather conditions
Nine ways to overcome artist's block
Advice on running an Open Studio
How to make mega-economical boards for oils, acrylics and pastels
Noel's personal journey of discovering the world of painting