Painting outdoors in changing weather conditions
Painting outdoors is not to everyone's liking but it is something I really recommend you try. The weather can be unpredictable though, so what do you do then? Read on.......
Posted: Saturday 8th October 2011

Member Content: You Are Viewing A Preview Of This Content. Register Now For Full Free Access
Painting outdoors - if you haven't already tried this - is something I strongly recommend. Standing in front of the subject you are about to paint, there's a sense of anticipation and, if I'm honest, apprehension as well. Here's a few of the many questions that most likely will flood your mind:
How on earth can I get all this detail into my painting?
What should I focus on and where shall I draw the boundary of what to include?

What if the weather changes and it starts to rain?
In this article I'm going to talk about the last of these -
what if the weather conditions change
- and to illustrate some of the issues and some options I'm going to talk you through a painting I did outdoors in Alencon, Normandy, France.
Before getting started, perhaps I should remind you of a few basic requirements for painting outdoors:
Make sure you have enough to drink and eat. Even if you are near shops, you can't abandon your gear to get refreshments
Take a hat and sunblock if it's hot, and a coat if it looks like rain.
Have compact painting gear with you, and think in advance how you would deal with windy conditions
Prepare as much in advance as possible. e.g. if you are using a pochade box with oils, squeeze out colours in advance so you can start painting straight away.
Always take a small sketchbook for making notes
Always take your camera for taking reference photographs.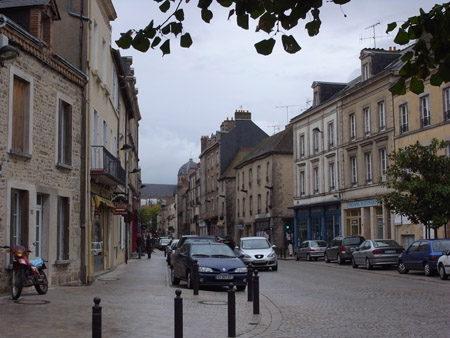 Here's the scene I decided to paint. It was Sunday, and Sundays are always quiet in France so there were few people about, and not much traffic either. An advantage if you are unsure about people disturbing you. It was dull and overcast, but the weather looked like it could change. And change it certainly did.....

more of this content available online now!

To read the full item and access all our valuable FREE content, please Sign Up As A Free Member. Its quick, easy and it really is all FREE. No credit card or payment needed!
Already a Member? Login As A Member and get instant access to this content now.
Other Articles From Cambridge Art Academy
What you need to draw and paint birds
Why you should follow Turner's example and distort the scene you paint - a view of Florence
How to make the best of a day out painting and sketching by the river
How to paint a snow scene Christmas card in watercolour
Painting commissions - the pain and the pleasure
How to analyse an outdoor scene and choose a good angle to paint from
Nine ways to overcome artist's block
Advice on running an Open Studio
How to make mega-economical boards for oils, acrylics and pastels
Noel's personal journey of discovering the world of painting