Noel's personal journey of discovering the world of painting
This is the story of how and why I first decided to learn to paint, and what the steps have been along the way since then
Posted: Wednesday 16th February 2011
First stirrings of interest.
In the early 1980's I was a Local Government Planning Officer with wife and young family, living in Bath, UK. I felt my interests were narrow and I needed something new - I didn't know what. I saw a programme on the TV with an artist painting an old brewery building using watercolours. I was instantly inspired and I wish I could remember what that one-off programme was called.
What I did next
At least you can feel confident! Here's a picture of that box of watercolours I bought in 1981. Filled and re-filled many time of course. I gave up on using it only last year when it had completely rusted through. Is the good value or what? I bought a paperback introduction to painting watercolours and bought the best painting equipment I could afford. Mentally I took the advice of my cousin who many years ago was a professional squash player; he had just thrashed me on court using a cheap racket that he had got from a catalogue. He smiled sweetly and said that when you were good it didn't matter what you played with - when you were learning it's best to get the best gear you can.
My first ever watercolour painting
I was so proud of this painting and naturally I have kept it. It's a view of our back garden when we lived in Bath. It's pretty awful, but like that first home-made brew that you offer to all your friends, with them pretending it's pretty good just to humour you, I was not shy to show this picture around. It's not for sale (joking, honest) but here it is: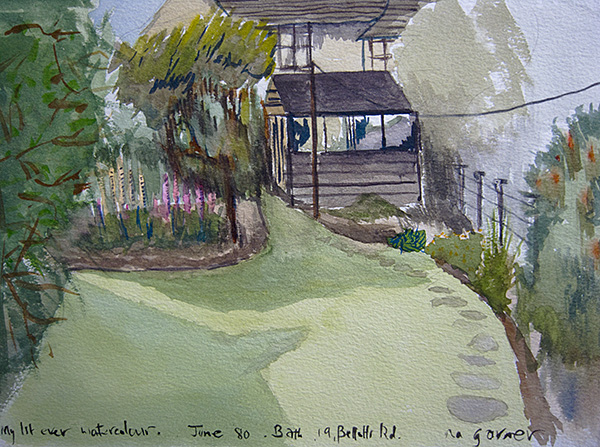 What I could paint a year later
Just to encourage you, here is an example of what I could paint two years later. Admittedly I was pretty keen, and tried to paint in watercolour most days, even if it was just a quick impression of the sky through the office window at lunchtime.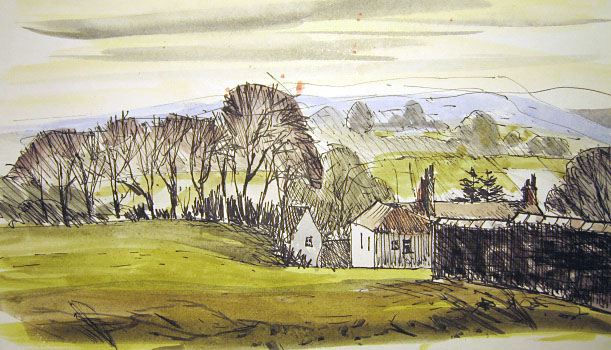 I exhibited at the Bath Society of Artists annual exhibition - a pretty august body even if I say so myself - Pissarro was once a member. If you were not a member you could submit a couple of pictures and maybe one would be accepted. I did this for two years, showing just one painting, but was not invited to become a member. That is, until my third year, when my painting was the only one reproduced in the local paper's review of the show. I don't have the original, which sold, but here's a photo of the clipping: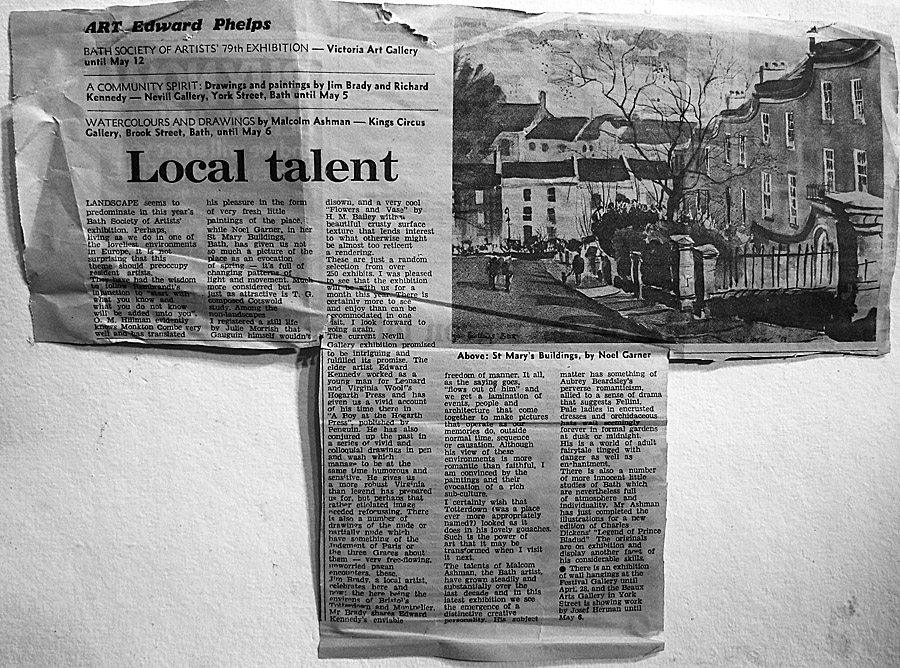 Shortly afterwards I was invited to join the Society. Had I not moved away it would still be my privilege to exhibit with them.

First publication
With a career in Town Planning, and three young children who never would settle for long, I developed a technique of painting very quickly. I thought it would be interesting to share that method with artists and was lucky enough to have my article entitled "If you're in hurry..." published in Leisure Painter magazine. In it I described painting St. Paul's cathedral: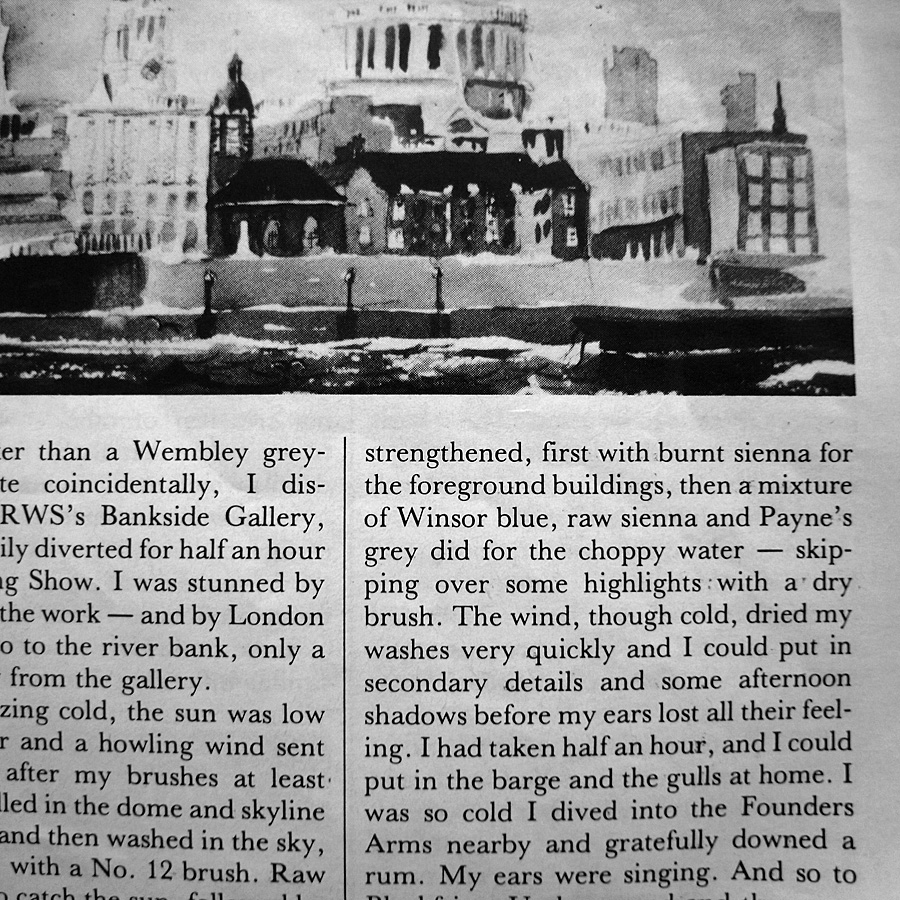 I laugh to read what I wrote in 1984, because I still tend to paint in a rush like that.

Starting to paint in other mediums
I've always tinkered with other ways of painting, but I put down a marker around 1990 and bought some proper oil painting materials. I was determined that I would only paint in oils if I could take my painting gear with me outdoors, like I used to do with watercolours. It takes a bit more planning than with watercolours, but I've developed my own way of working, and as I result now I paint mostly in oils and use watercolours when I feel inspired to do so - which is pretty often. But I like oil pastels, pastels, pencil......
My advice is to start painting in watercolour if you're just starting out. Some people say it's difficult, but I disagree. With watercolours you need a piece of paper, a brush, a pencil, water, and three colours. What could be more straightforward!
Other Articles From Cambridge Art Academy
What you need to draw and paint birds
Why you should follow Turner's example and distort the scene you paint - a view of Florence
How to make the best of a day out painting and sketching by the river
How to paint a snow scene Christmas card in watercolour
Painting commissions - the pain and the pleasure
How to analyse an outdoor scene and choose a good angle to paint from
Painting outdoors in changing weather conditions
Nine ways to overcome artist's block
Advice on running an Open Studio
How to make mega-economical boards for oils, acrylics and pastels