Why you should follow Turner's example and distort the scene you paint - a view of Florence
In this article Noel compares a watercolour painting of Florence by Turner with a one of his own done twenty years ago, and an up to date photograph from the same viewpoint.
Posted: Thursday 29th December 2011

Member Content: You Are Viewing A Preview Of This Content. Register Now For Full Free Access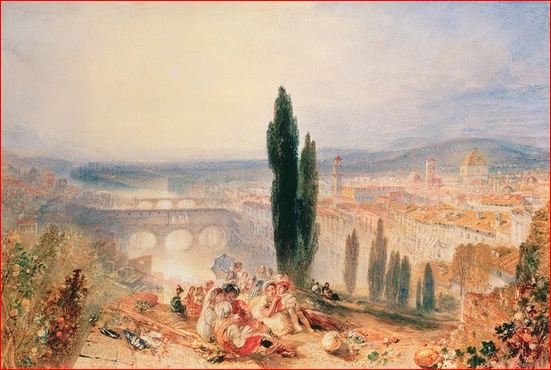 Turner painted a beautiful watercolour overlooking Florence with the River Arno in the foreground in 1848. It's easy to make a comparison with the view today because it is safe to say the river follows the same course as it did 200 years ago. Also notable architectural features - such as the Duomo - make a positive
location for his painting an easy exercise.
When I visited Florence in 1992, I headed for the same place with the express aim of painting the view from the same position where Turner must have stood. I used watercolour too, and this is how my painting turned out: ....

more of this content available online now!

To read the full item and access all our valuable FREE content, please Sign Up As A Free Member. Its quick, easy and it really is all FREE. No credit card or payment needed!
Already a Member? Login As A Member and get instant access to this content now.
Other Articles From Cambridge Art Academy
What you need to draw and paint birds
How to make the best of a day out painting and sketching by the river
How to paint a snow scene Christmas card in watercolour
Painting commissions - the pain and the pleasure
How to analyse an outdoor scene and choose a good angle to paint from
Painting outdoors in changing weather conditions
Nine ways to overcome artist's block
Advice on running an Open Studio
How to make mega-economical boards for oils, acrylics and pastels
Noel's personal journey of discovering the world of painting